Expert Automotive Marketer David Kain Rebrands with .Auto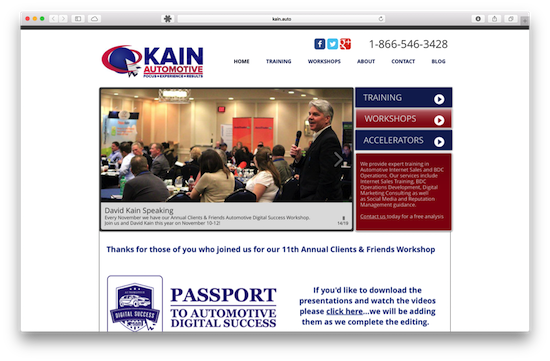 David Kain, previously the CEO of Ford Direct – overseeing all Ford dealership websites – has become one of the most influential digital marketing experts in the automotive industry.
David's firm, Kain Automotive, provides internet sales training, BDC operations development, digital marketing consulting, as well as social media and reputation management guidance to dealers and manufacturers. The company was founded in 2003 as a way to assist automotive dealers and manufacturers with developing effective and progressive Internet Sales Operations.
Last month, leveraging his own digital marketing expertise, David announced the rebranding of his website from KainAutomotive.com to Kain.Auto at the annual Kain Automotive Digital Success Clients & Friends Workshop. In his press release, David said, "we're very excited to announce our upgraded web address to Kain.Auto. With our conference underway, I'm happy to introduce the next shift in automotive naming to all of our attendees."
Not only is Kain.Auto a more unique and mobile-friendly URL, but it now ranks at the top of Google's search results for terms like 'David Kain,' 'Kain automotive,' 'BDC digital training,' and 'automotive internet training,'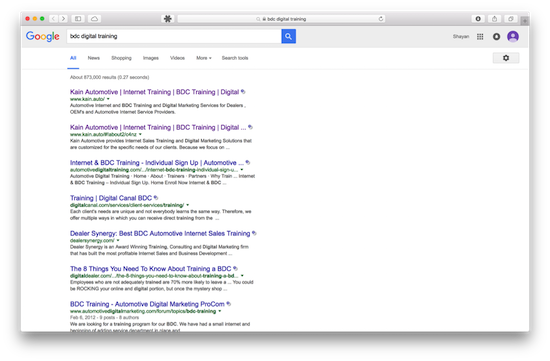 It speaks volumes when an industry leader like Kain Automotive – which has been recognized by Dealer's Choice as the Best Internet Sales Training Company in America for seven consecutive years – embraces our new domains for their online presence.
For marketers interested in rebranding with .Cars / .Car / .Auto domains, our white-glove team offers a complimentary service to dealerships to migrate their existing websites to ensure that SEO, page ranking, and emails are all preserved.
Secure your .Cars / .Car / .Auto domains now by searching for your company's name at the link below or contacting us.